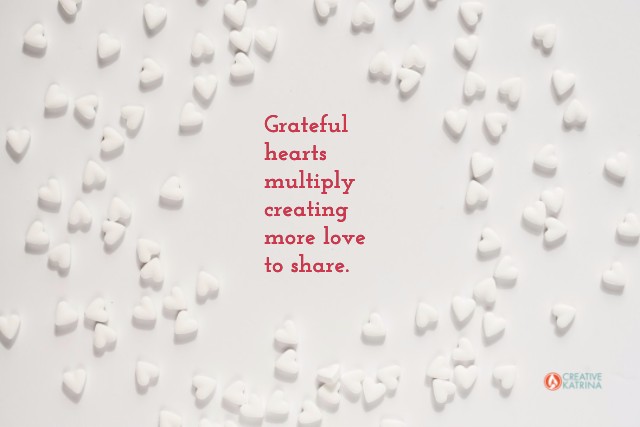 How often do you lead with a grateful heart?
Is a daily act or seasonal one?
A community inspired practice or a mindful act of meditation you tap into when feeling stressed, overwhelmed, or ungrounded?
Or do you see a grateful heart as part of who you are intrinsically – the core of what makes you uniquely you because of how you express that feeling?
It can be all and more. There's no one right way. The power is in sharing and expressing that gratitude so it connects you to other like minds and hearts in your family, community, friend network, and beyond.
So how do you share it? No, really, think about it. How is gratitude part of your self-expression?
At a time when external noise and distractions are reaching epic levels, the power of a grateful heart can be overlooked. Discounted even. Yet it's so much more powerful than we realize in helping us stay balanced and nourished, especially when we are transformed by one.
As we head into the holiday season, why not take a look around. Do you have a grateful heart right now? Why? Why not?
Are you surrounding yourself with people who are loving, grateful contemporaries, or are they dragging you down with each exchange?
Is there something tugging on your soul that distracts you from what really inspires you, and builds fear around stepping into a new creative adventure?
There are so many ways we make gratitude and after thought; a focus only when the calendar says it's time to be more grateful as a holiday gesture.
Yet, this past year I've met so many wonderful people who are regular, serial "gratituders". It's not seasonal, it's their way of life. They are tapped into the creative flow and grateful for what life experiences show up. Good and bad. They are inspiring, and we inspire each other. There's a certain kind of magic they exude, and I feel so happy to be part of their orbit.
I would like to say thank you to all of the people who read this blog regularly and support me with clicks, likes, shares and of course, inspiration. I write because the voice in me says I must, (you creatives get what I mean), and I'm grateful I still hear it. I'm equally grateful you want to read it!
Most importantly, I want to thank all of my creative cohorts, clients, and friends who remind me every day I have so many reasons to feel grateful, especially when it would be really easy to choose otherwise.
Thank you and have a fantastic Thanksgiving Holiday!