Creative Mastermind Host: Creative Katrina
Creative and Content Consultant, Strategist, Coach, Writer, Editor, Podcaster
The Creative Mastermind Online sessions are designed to facilitate inspiration, business and marketing solutions, goal setting, access to resources, gentle accountability, feedback, and community knowledge sharing. The group environment helps address and support your unique needs as a creative and entrepreneur at a local, national level and international level.
We also cover specific tools to address challenges with workflow, mindset, focus, marketing, content development, and actively brainstorm innovative solutions to support the unique needs of each participant.
As a member, you get to focus on your creative strengths, move past blocks, stay accountable to dreams and goals, and craft a business and/or a creative process that works for the life you want. It's why I founded the Creative Mastermind – to facilitate a network of entrepreneurs, artists, creatives and small business owners and provide ways to help them identify obstacles, find creative solutions, and support a path of personal growth and success, together.
And one last note. As a global community we are navigating a sudden change in how we work, where we work, the options available to create stability and success moving forward – AND how all of these elements impact our creativity and productivity. The Creative Mastermind offers a space to share our stories, experiences, and challenges, and generate manageable, flexible solutions to create fresh, new path and mindset for our work and life.
Benefits of the Creative Mastermind Online
The Creative Mastermind Online offers a safe space for group, non-judgmental support and a variety of benefits to address common pain points that plague creatives, artists, and entrepreneurs. Here are just a few of the positive impacts:
Turn frustration and confusion into clarity and action
Create and reach key goals
Receive feedback and accountability
Take projects from stalled to complete
Transform self-doubt to confidence
Break free from limitation and step into creative freedom
Want a to hear my personal passion behind the Creative Mastermind and why I started it? LISTEN to a quick overview of the Creative Mastermind program narrated by me.
Next Creative Mastermind Sessions:
If you are looking to participate in a collective brainstorm session this summer while the Creative Mastermind is on break, let me know! There may be others who are feelin' it too, and we can create a special session to gather and talk as a group online or in-person.
Connect with me directly if you would rather have a 1-1 session or would like to start off with an introductory Discovery Session.
Creative Mastermind Online details:
Groups meet weekly on Fridays for 1 hour starting at 12 pm MDT to support each other in moving forward with projects and key milestones.
Each meeting includes tips on productivity, mindset, business and creative tools, mindfulness, and how to stay motivated and goal focused while doing the "grunt work".
Personalized homework is part of each session to help you work through a challenge or meet a specific goal.
Weekly round robin to offer each group member an opportunity to share insights, challenges, or advice.
Online groups have a maximum of 4 members.
Cost is $175 for four sessions within the month.
Creative Mastermind groups run for a total of 4 weeks on Fridays, at which time participants can continue and/or new members can join at the start of a new month.
NOTE: We will be using the free online platform Jitsi. Once you have signed up and paid to secure your spot, I will provide a unique link to our specific meeting room 5 minutes before the call takes place each week on Fridays. Please provide the email you wish to use for the video calls when you sign up.
Creative Mastermind Pricing and Enrollment:
*STEPS TO COMPLETE THE SIGN UP FORM AND PAY:
1. Please choose Creative Mastermind Online

2. Click on the first Friday of the month to enroll. This will ensure you are enrolling in the proper month and for all sessions during that month.
3. A day and time will appear on the right hand side. Click on it. It will automatically request your contact information. Please fill it out to get to the next step. If you have already signed up before, it will automatically take you to the payment gateway.
4. Once contact information is completed, hit submit, and it will take you to the payment gateway to complete payment for the class.
5. You will receive a link via email to an online meeting room 5 minutes prior to the start of group sessions. Each week will be the same meeting room access process.
Please note that payment counts as enrollment. If you have any problems with online payment or have questions, please reach out to me through my contact form.
***If you have arrived here mid-month, please come back to check for the next series of dates towards the end of the month when I create and post new sessions.
Who is the Creative Mastermind For?
Creatives, creative entrepreneurs, small business owners, and people working on personal creative projects. Detailed list below.
Image by Darren Squashic
Creative Mastermind Participants
Quick list of the creatives, entrepreneurs, and business owners who are part of the Creative Mastermind community:
Writers,

Authors,

Ghost Writers,

Poets,

Scriptwriters

Designers,

Web designers,

Illustrators and Cartoonists,

Interior designers,

Graphic artists

Photographers, Videographers, Filmmakers, Producers

Musicians, Singers, Songwriters, Podcasters
Painters, Actors, Actresses, Stylists, Jewelry makers
Esoteric practitioners, Sensitives, Empaths
and more!
Image by Darren Squashic
Testimonials – Creative Mastermind Attendees:
"I first went to Katrina's weekly Creative Mastermind group in October 2018. I had a sliver of an idea that I wanted to be a storyteller, story coach, story blogger, speaker, etc. In my late, '60's I've spent the last 25 years as a real estate agent, but I knew that I had something else to do. Katrina knew it, too. Six months later, my path is clear, my confidence is high, and with the continued guidance and vision of Katrina, the shift in my thinking and action is startling. I'm coaching, holding monthly seminars on storytelling, teaching for Osher Learning Institute, emceeing events and booking my first speaking gigs. I didn't even know to imagine this just a few months ago. Thank you, Katrina."
Mary Roberts—story coach, storyteller, author, speaker
Joining the Creative Mastermind Online has been a lovely way to receive more accountability and stay connected with other entrepreneurs. Katrina is an insightful creative who offers excellent feedback regarding SEO and marketing copy. I appreciate her ability to hold space and ensure everyone's voice is heard during Mastermind meetings. She's consistent in helping you create "homework" and actionable steps and follow through to see how things are going. She has a lovely heart and I'm happy to call her a colleague and friend from afar.
Cynthia Hauk, MFA, RYT, Founder and Instructor, Mindful Creative Muse
"I can't really think of a better way to gather a group of people at various stages of creative entrepreneurship and make sure they all get something out of it. Our class consisted of people who had been running their businesses for years, as well as people who hadn't even started yet, and I truly think it was valuable for everyone. Katrina has a brilliant way of personalizing the class experience for each participant by assigning tasks and "homework" specific to what each individual needs in order to overcome business and creative obstacles – and I found it much easier to stick to my tasks with her and the other members of our group holding me accountable! The whole thing was fun, supportive and inspiring, and I would absolutely recommend it to anyone, at any stage of the entrepreneurial journey!"
Ali Owens, Copywriting & Editing Services
"I would highly recommend Katrina's Creative Mastermind group to anyone who's at a place where they feel like they need some guidance + feedback while setting goals for either their small business, personal life, or an upcoming project. Katrina does an incredible job facilitating + guiding the conversations during the meetings, providing a space where people can give + receive constructive feedback in a comfortable manner. Aside from facilitating her meetings well, Katrina is overall an authentically joyful person to be around, she truly cares about those around her + goes out of her way to connect with people!"
Courtney Cyr of Courtney Cyr Design + Events
"When I met Katrina, as a solo graphic designer, I had just joined a co-working community, was burned out from over isolation paired with under-creative corporate work, and about to enter a difficult season of career transition. Joining Creative Mastermind opened up the door in our co-working space for greater connection and support with those I was working alongside. It has been a great platform to share hopes, dreams, goals, resources, do's/don'ts, ideas, doubts, fears, successes, failures to a supportive audience and receive feedback and encouragement from same. It was also great weekly exercise in listening, note taking, providing meaningful input, informal professionalism, embracing diversity, and demonstrating consideration, care, commitment and countless other character qualities to fellow members. The cost was more than worth the value received, and I highly recommend this group to anyone with the faintest inkling they need or could benefit from it.
Bryan Gaspord, Creative Director of BG Design Co
"It was great to be able to brainstorm solutions to challenges I was having, have a support system and also a certain level of accountability with the other members and it was rewarding to be able to help others with the same."
Libbi Alcorn of Luxe Event Productions
"The Creative Mastermind group made me realize that as creatives we all face many of the same challenges. I walked away feeling inspired by others ideas and journeys and left motivated to follow my creative passion."
K.A.
To read testimonials from personal coaching and content consulting clients, visit my client love page.
About Katrina: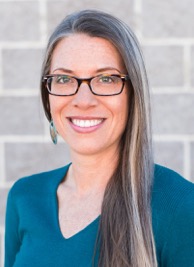 Katrina Pfannkuch is a mentor and creativity catalyst, writer, content strategist, and podcast producer passionate about creativity, mindfulness, and personal transformation. As a professional writer for 20 years, Katrina has created content, content strategies, and provided marketing and branding support for IBM, 3M, Allegro Coffee, and Kapost, as well as several businesses within Northern Colorado. She offers creativity coaching and content consulting services for clients nationwide through her business, Creative Katrina, LLC. Most recently she served as the Development and Communications Director for the first-ever Horsetooth International Film Festival in 2019.
In addition to coaching and mentoring, Katrina writes about creativity, personal development, and mindfulness on her blog, Creative Katrina, offering tips on how to stay inspired, productive, and mindful. Her podcast, Flirting With Enlightenment, shares tips and insights on how to tap into your inner wisdom and match your passion with purpose.