Creative and Content Consultant
I clarify and directly support your creative vision or project through brainstorming, creative development, content consulting, strategy.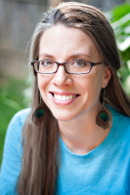 True creativity is more than raw talent - it's feeling free to be your natural self in all you do. Sounds simple, but when you feel stuck, frustrated or unclear about what you are creating in your life or business, it feels anything but simple to change.
One of the best ways forward into clarity and confidence is to connect with someone who really understands your challenges and unique experience. I support you with deep listening, objective reflection practices to claim your true power and gifts, content support, and help you craft a practical personalized tool-set for ongoing success.
How I help you bust through creative blocks, fire up creativity and thrive:
I'm excited to support you as you move from confusion to clarity for yourself and your business. Connect with me through the blue tab below.
Looking to kick-start creativity for your writing, art, photography, self-care practice or overall mindset? Read tips on my blog.
Core Clients
I work with solopreneurs, entrepreneurs, small businesses, creatives, and esoteric practitioners to clear creative blocks, gain clarity and get focused, then create a business vision and content strategy to fulfill it. I support individuals and teams on personal and professional projects.
Podcast
Flirting With Enlightenment is a blend of mindfulness, creativity and spirituality covering tips for tapping into your inner wisdom.
Creative Insights from the Blog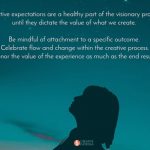 It happens to the best of us when we create – the rise of pesky creative expectations! When tuned into the passion of the creative process and fully engaged, energy is high and we are immersed in building what we envision. Inspiration is flowing and the creative process is organically emergent and natural. […]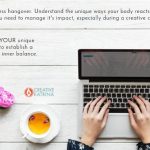 Stress is part of life, but often much more noticeable during creative crunch time. Sensations related to the bubbling up of stress are easy to ignore. We have TV and social media to help distract us, while a few drinks or a good meal also does the trick. These habits help take our […]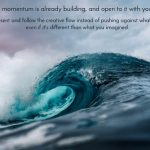 Connecting with our unique natural momentum isn't always…natural. When the brain keeps diverting us to expectations, rules, and shoulds, the natural momentum of life and creative expression gets muted. Demands on the self and what we need to "force" can take over, while the heart's desires become an afterthought, or seen as a […]