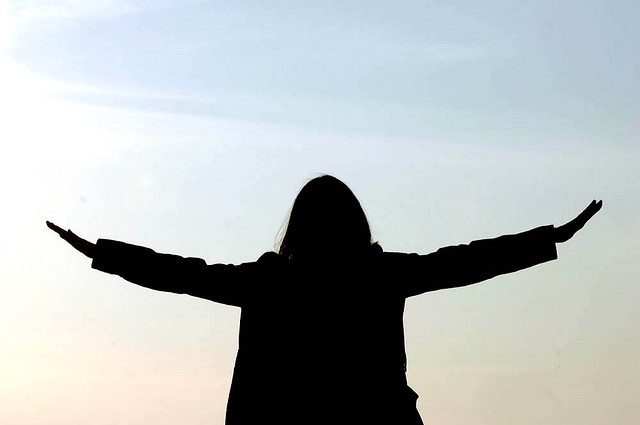 Living your passion is a feeling that expands beyond the container of words we have to explain it. It's an inner knowing that's desired yet sometimes also feared, and it drives you to follow the path it carves until you feel it's energy flow through you effortlessly.
With something so powerful within us, why aren't we actively expressing our passion every day?
We aren't always sure how to mix it into to a busy life.
There are some things you can do to tap into your true desires and practice building up the inner "pipeline" to express passion in all you do. Pulling in your natural creative side throughout the day is a lot easier when you've made room for it to flow through all moments, not just the moments you set aside to actively "create".
To help make room for more creative passion in your life, here are some ways to make it a priority.
1. Wake up early enough to savor "one thing" in solitude before you start the day.
Some people naturally like to wake up early. I am not one of those people. However, I have come to recognize the value of honoring a regular a morning routine before rushing into a full day. I also know how off balance I feel when I miss my "one thing".
To start off my day I run through a quick energy centering practice. It's not always exactly the same, but I take at least 15 minutes to check in with my mind and body to clear out any thoughts or energy that feels funky. When I'm done, I stamp my feet to get grounded in my body.  Then I brew a cup of tea to end my practice.
It's quick, simple and sets the tone for my day so I'm able to start off tuned in to my own natural rhythm and inner voice, which also helps my energy flow more evenly.
Other examples include a cup of coffee in peace and quiet, a morning run, a few yoga poses or a simple meditation – whatever gives you a sense of balance when you start the day.
2. Choose a skill, aptitude or talent about yourself, and express gratitude for it.
It's easy to focus on what you don't know or have yet, but what about what you do have? Why not spend time and energy connecting with how it feels to be good at something, how it feels to be connected to your natural gifts?
Even if they may not seem significant to you, the things you are good at absolutely count as part of your passion expression. When you can acknowledge and honor what you already do well, it reminds you of how it feels to be in the flow led by your passion.
3. Naturally slip your passion into daily exchanges with others.
To make the most of each moment you have with a person, share an aspect of your passion within the exchange. Tell a story, offer support or a tip, express gratitude, give a compliment or simply say hello in a way that's unique to you.
Not only will you feel good about expressing an aspect of yourself in a way that feels natural, but you are practicing a way to feel more comfortable by doing it regularly.
For example, I love being able to help people see their true beauty and gifts. To share a bit of my passion in a personal exchange, I offer a compliment. This allows me to express my gift while also helping another person see their own beauty reflected back to them – and who knows what kind of impact that will have on their day?
4. Read Something Inspiring
It can take one little sentence to turn your day completely around. Reading a poem, mantra, book passage or article that helps you block out the world and recenter focus on your passion can be the little boost you need to remember what drives you to pursue something you love.
Need help centering on your passion and expressing it more fully in all you do? Sign up for my mailing list to receive the Mini Guide to Connecting with your Inner Guidance and Creative Fire, or connect with me for an intuitive reading or creativity coaching session using the blue tab below or fill out a contact form.
Photo credit: kreezzalee