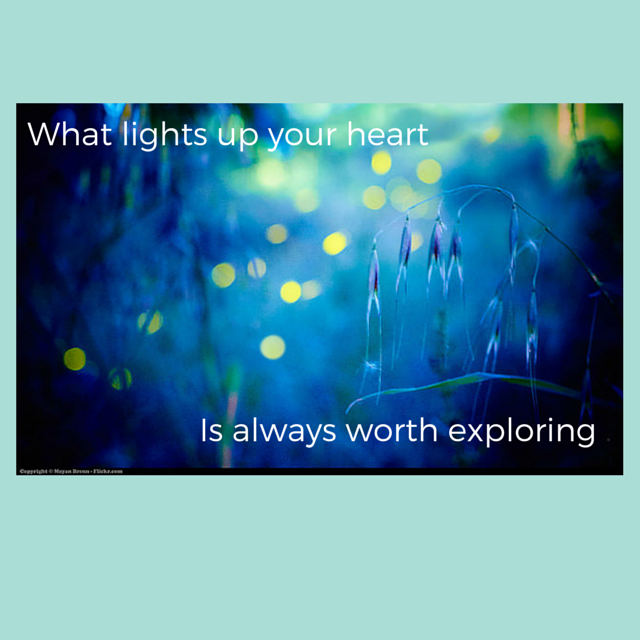 Time away from the computer always clears my perspective and hits a deep, inner reset button, allowing me to crack open new perspectives on creative illumination and settle into a new, refreshed pace.
We all need time to be quiet, tune in and transition into something bigger than our own, well-traveled ways of thinking that can unintentionally trap us into a limiting routine. It's also easy to turn a blind eye to the walls that slide up around how we justify our ability to find and act on creative illumination in our daily lives.
If you define yourself as creative, there's often pressure to always come up with the next big idea for yourself, clients or to feel justified in your own "creative" labeling.
Or, when you feel your ability to be creative is lacking, the judgments you put on self expression can weigh you down to the point of giving up altogether.
Yet, creative illumination starts with simply being aware, then taking notice of what you see or the triggers you feel in your heart in order to lead you to the next creative connection.
For me it's been fireflies.
What Lights the Way is Only the Beginning
I saw a lone firefly a few weeks ago in the grass along the sidewalk at dusk during my evening walk. There he was, blinking at his own rhythm, lighting up the pavement as he tried to use his colors of influence to attract a mate. I was shocked and thrilled at the same time; after 15 years of living in Colorado I'd never seen one firefly.
A few days later I heard a promo for an NPR story that was about how there are fireflies in Colorado, even though they are rare. We've had a pretty wet spring and summer, so these little luminaries are taking advantage of the natural breeding ground that suits them.
Then, just after dusk on the 4th of July I looked down off my back porch into the lush, marshy field and saw the most beautiful natural light show – the blinking of at least a dozen fireflies, dancing to their own beat to connect with a mate who matched their sequence.
These little green flashes immediately reminded me of the green color of the heart chakra and how people light up when they are doing what they love. These little pulses of creative illumination bring joy and satisfaction to you while at the same time, spreading that same energy into the world around you.
This week instead of pushing, follow the spark that lights you up, even if you have no idea where it's leading you. Play, explore, go with the flow and release control. Open to your ideas before you shut them down. Explore what lights your heart and just be with what fires up an emotional reaction to simply ride the wave.
It's the passion you share by following what you love that attracts the attention of others and makes you shine effortlessly, so why not flow with it? Who knows what you might actually spark in another or what a little burst of creative illumination will bring to you next?
Want to do a little more reading on the creative spark? Check out my previous posts Can you Tell When Judgment Creep Snuff Out your Creative Spark and Why I Look for the Creative Potential in Everything.
Need a sounding board for some of your new creative ideas? I would love to support you through a creative reflection reading.
Interested in my latest creative side project? Listen to my new podcast called Flirting with Enlightenment co-hosted by spiritual coach, Jamie McConochie.
Photo credit: Theophilos Papadopoulos – path