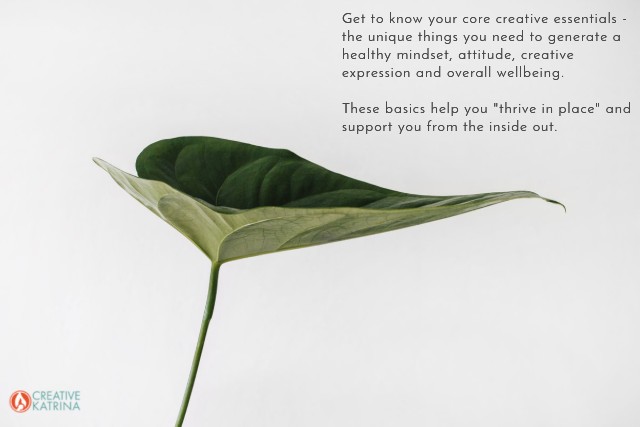 When was the last time you made the effort to tap into your core creative essentials – the things you as a unique human being need to support your creativity, mindset, physical health, attitude and overall well-being?
Has it been a couple of months? Years? Never?
Maybe reviewing your core creative essentials is "top of mind" right now as you learn to navigate life as an individual, couple, family, creative, or business owner exclusively from home. Or you could feel unsure of what's important now because all you have to go on is your prior routine, and things may shift yet again.
It's absolutely normal to feel a little stuck, imbalanced, emotional or "fill in the blank". You might even feel a little relief as you take a step back from the grind to regroup and take a breather. No matter what your experience, the first and most important thing to do is give yourself permission to be wherever you're at without judgment, and make space to listen to yourself at a deeper level.
Not the world, not your family, not friends and bosses – yourself.
In the midst of upheaval when things are uncertain it's easy to forget one key thing – that you deserve to take time and clarify exactly what you need, and don't, in order to thrive in place. This global experience is not ideal nor what anyone wanted. However, it's an opportunity to relate differently with ourselves and make it a priority. To be mindful and deliberate requires you see the opportunity in using your time differently and seeing where things are strong and possible, not only where things are missing or broken.
With this deeper dive you can review and switch up the core creative essentials you need now, as we are all different. How can we not be? Don't you deserve to reconnect with the things that help you thrive in place, no matter where that place might be?
Connecting With Your Core Creative Essentials
In my work as a creative coach, the first thing I talk about with my clients is what they want vs what they are creating, and how far apart those experiences are at this moment.
This simple approach allows me to listen to how they talk about:
What they like, and don't, about themselves, career and accomplishments
Dreams, desires, and passions
The things, people, feelings, and experiences that are important to them, yet they continue to neglect
Where they feel they powerless to change their current circumstances to something empowering
Why they want be, create, do, or grow something specific for themselves or others
When you ask yourself these simple, yet deep questions, you begin to see and acknowledge the gap between where you are and what you want to create. And this is the starting point from where you can define your core creative essentials.
I see core creative essentials as your unique non-negotiables or tools you use to honor your personal needs while enabling your ability to create as your best self. They can fall into these key categories:
Mind
Body
Spirit
Emotional expression and support
Creativity and free thinking
Self reflection and release
Fun free time
One example of how you can use this simple list to organize your core creative essentials is as follows:
Mind – Meditation
Body – Yoga
Spirit – Nature walks
Emotional expression and support – Therapy
Self reflection and release – Journaling
Fun Free Time – Daydreaming while listening to music
You can list however many items you need in each category. It can be helpful to write out what you currently do, then put the list aside for a day. Review it again and ask yourself if it still feels like it fits as a core creative essential, or if you need to change or add to it.
Taking time to tune in a little each day is an option, or spend a chunk of time writing it all out at once as an exercise. There's no right or wrong way to do it. The important part is to come at this exercise from a place of FEELING and continue to check in with how it's feeling daily. It's not a one-and-done kind of thing. Using this approach enables you to practice connecting with yourself, get comfortable with asking the "inner self" what it needs, then giving yourself permission to act on or change it.
Building a New Path to Thrive
Right now we all need to adapt in order to create a new path forward that's built on flexible stability. We are used to technology changing quickly, and now we see just how quickly the basics in life can, too.
So instead of trying to control the external, experiment with your core creative essentials and do little extra fine tuning. Ask yourself what…
Feels like it works, or is an outdated way of doing something in your life?
Are you inspired to do differently, try or learn?
Can safely be retired or postponed for a later time?
Needs adjustment vs an overhaul?
Ways are you honoring your body with good healthy things and habits and what leaves you feeling depleted and unsupported?
Do you really want to create and experience?
Will help you feel supported, heard, loved and free?
Looking inward at these aspects reveals how you operate, and invites you to do some deeper thinking about if you want to continue along the same path or switch it up. When things are grown from the inside out, you feel empowered to thrive in place and build core creative essentials that are inherently stable because they are something you know is right for you. Then you have more confidence to navigate what happens outside of you, no matter what shows up.
Interested in reading more similar posts? Check out Creativity Kick-Start: 5 Ways to Be in the Flow During Creative Transition or Creative Expression Mirrors the Health of your Personal Power Connection. Want more tips to tap into your inner wisdom and voice? Check out my podcast, Flirting With Enlightenment.