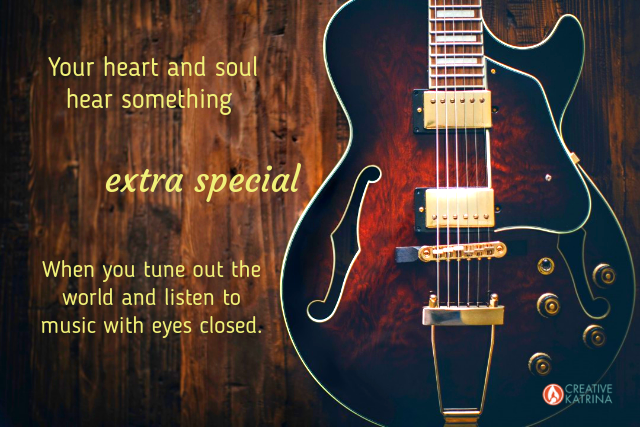 Music is one powerful emotional influencer. It inspires and uplifts. Helps us deal with tough times, break-ups and that pesky old baggage we need to heal and release. It brings us closer to understanding our life and emotions as we see ourselves through an artist's eyes, and can also help alleviate feelings of loneliness and disconnection.
When we listen to music, we are no longer limited to a set of headphones hooked into a stationary stereo or record player. It's on our phones, MP3 players, piped into restaurants and stores, awash in doctor's offices and wafting along sidewalks. It's become part of our everyday culture in many ways, especially in America, where pop music gums up the brain for hours after hearing it at a favorite lunch spot.
While out and about in public, it's also easy to rely on music as a way to distract ourselves from our surroundings, other people and life, instead of being present.
In many ways, we are only experiencing a fraction of the true value available to us in our music. Being able to lose yourself in the notes and stay present with what comes up can inspire creative ideas and offer deeper intuitive insights into ourselves and how we work. It just takes a willingness to connect with what we hear, feel, and sense with our whole bodies to get the most out of every note.
This is why I've included listen to music with your eyes closed as tip #6 in the Simple Ways to Tap into Intuition and Spark Creativity blog series.
Music as a Tool to Crack Open Emotional Blocks and Get Inspired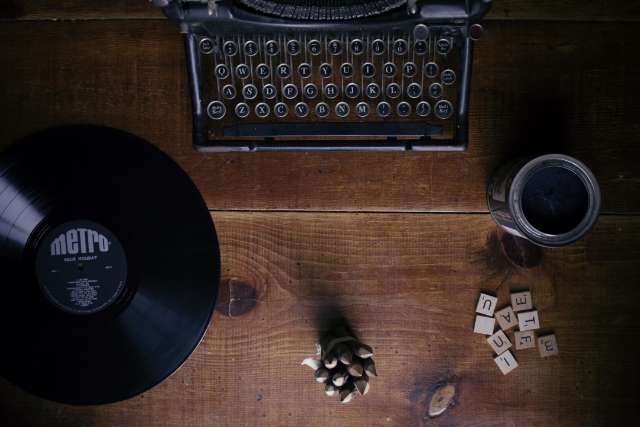 Music has a very important influence on and connection with my mood, and my range of music preferences is vast. I most enjoy connecting with the artist behind the art and the intention motivating their self expression.
At times classic rock does it for me. Other times you can spot me listening to old school rap fueled by the awesome beats and nostalgia factor. In between these two genres is 80s and 90s pop, classical, EDM, techno, instrumentals, flamenco guitar…and the list goes on. As I mentioned, the choice is influenced by my mood.
However, there is a distinct reason I'm such a music appreciator…it's been a huge influence on my creative insights and intuitive self-growth my whole life.
When I was little I had a Burt and Ernie radio I kept on my nightstand. I listened to it every night, tuning into late 70s light rock favorites playing on various local stations.
And I always listened in the dark.
There's something very special about listening to music with eyes closed. We can tap into intuition in a new way, hearing subtle shifts in the music and noticing words that speak to our heart in new ways – even if we've heard a song a million times. It can truly shift us into another state of mind and dimensions, connecting with creative nerve endings we never knew were active.
I loved that radio to bits because it was also a personal way to connect with something outside of my immediate surroundings; a way to tap into the collective feelings of the bigger world beyond my nuclear family's influence.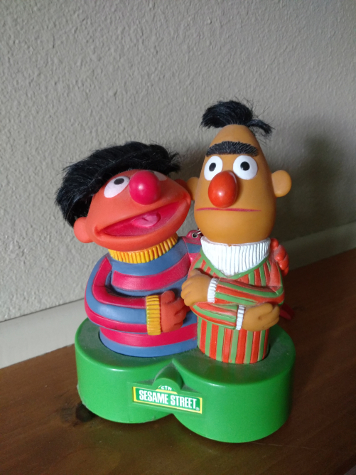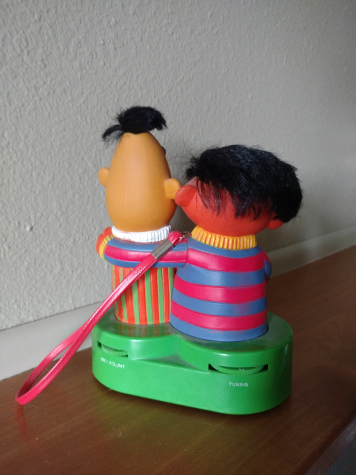 (Note: this is not the original, but a gift from my lovely partner, Chuck.)
Scrolling through the dial to catch different music every night I began to shape some pretty important understandings about life, refined by my current perspective of hindsight:
Everyone gets sad sometimes.
People who love each other don't always know how to express it.
There's a unique excitement in meeting a special someone for the first time, and it's a one of a kind feeling.
Second chances are an option.
Creative expression is a very powerful, and everyone's is important.
Our gut feelings are usually spot on.
People aren't perfect and neither is life.
The older I get, the more I see how music was a way for me to explore, understand, and stay up way past my bedtime learning about what was shaping my creative outlook on life.
Listening for Intuitive Connections and Creative Inspiration Between the Notes is Easiest in the Dark 
The space between the notes that is just as powerful as the notes themselves. When we listen to music on the go, there isn't always an opportunity to sink into the notes and pauses with heart and mind, discerning the take-aways and secret messages that speak to our soul.
Can we have a spiritual experience with music on the subway or in the car? It's entirely possible. Can we let go and truly feel the notes dance through us, opening us in ways we never dreamed? Not as easily. Our eyes need to be open in order navigate the rest of the world and all its distractions, shiny objects and endless parades of drama.
Here are some tips to help infuse the power of music into your life: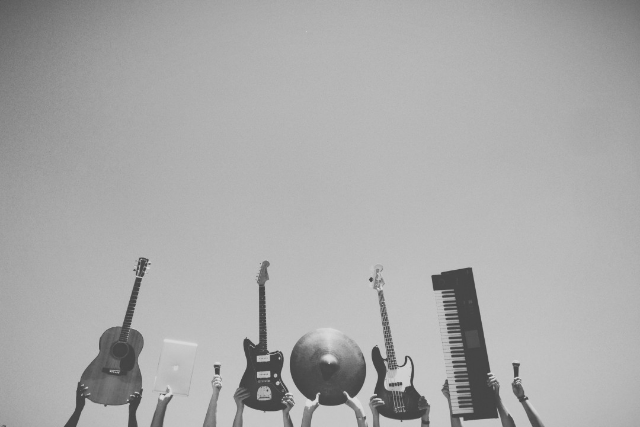 To activate the power of music for creativity and intuition, build playlists that fit a mood, setting, task at hand, etc. The process of creating the playlists is fun and creative, and organizing our tunes in this fashion allows us to call on the power of music for inspiration in specific ways.
Listen to music with a group of people or create it together. Shared music has an unmistakable energy of powerful presence that flows through each person. We don't have to agree, feel the same things or enjoy the same notes to have a collective experience that speaks to our core in a bigger way yet, all efforts contribute to a bigger community feeling of good vibes.
Pick a short playlist to help you relax at night and sleep better. Set up a short playlist through YouTube, a personal music library or other service to get your mind, body and spirit in a tuned-in state.
Play air drums, air guitar or another other instrument as pretend, and just go with it! Release nervous energy and let that playful, child-like side free while "rocking out."
Treat yourself with music you love as part of your day, and listen to it with closed eyes and an open heart. Think of this as a little gift to yourself each day.
These are just some examples of how to tap into the infinite power of music. What are some ways you tune in and open up?
For additional reading on sparking creativity and intuition, connect with other posts in my series, Simple Ways to Tap into Intuition and Spark Creativity:
Observe Everything with an Open Mind to Fine-Tune Intuition and Creative Awareness
Actively Play with your Inner Journey Process to Kick-Start Creative and Intuitive Insights
Why Practicing Silence is a Super Ninja BFF for Creativity and Intuition
Or for another music inspired post, check out my previous blog, Are you Ignoring the Music of your Creative Soul?
For more insights on tapping into some of your creative hot buttons, connect with me for some creativity coaching. For clarity around a project or creative blocks, connect with me for an intuitive reading.